How Poor Semi Truck Maintenance Contributes to a Truck Accident.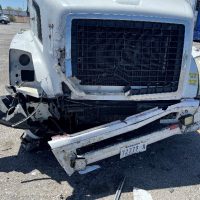 It is our strong opinion that no other Truck Accident Personal Injury Attorney in the State of California has as much trucking experience, and knowledge in trucking as our truck lawyer in West Covina, Truck Attorney Oscar Ischiu. Before he became a truck accident lawyer, Personal injury Attorney Oscar was a Trucking company owner (owner operator) dealing with daily trucking operations. In addition, Oscar grew up in a Trucking family. Thus, when dealing with truck accidents, our personal injury truck accident lawyer in West Covina, CA, Oscar Ischiu, understands how Trucking companies operate, how trucking accidents occur, why trucking accident occur, what steps trucking companies take to avoid liability in an event of a big rig accident, how trucking companies think, how truckers think, but most importantly, our Semi Truck Accident Personal Injury lawyer with offices in Monrovia, CA and West Covina, CA knows how to take the initiative in a Semi Truck accident personal injury case.
Trucking Company Requirements
The FMCSA (Federal Motor Carrier Safety Administration) requires daily inspection for commercial trucks before the drive begins. The question become, who is responsible for such inspections? How does the FMCSA check this requirement? And what happens if the requirements are not met?
West Covina Truck Accident Personal Injury Lawyer, Attorney Oscar, will himself look at the Truck to determine if the Pre Trip Inspection was actually completed. We are Different!
Before the truck driver begins driving his tractor-trailer, the driver must complete a pre-trip inspection. In fact, the driver must log and sign off that such inspection was made. Thus, the responsibility falls on the truck driver. However, in the event there is a defective part in the trucking equipment, does it get repaired? That is why it is highly important to hire a skilled and knowledgeable Truck Accident Lawyer. Our personal injury lawyer, Attorney Oscar grew up in trucking, in fact, he ran the maintenance shop at his family trucking company before he became a truck accident lawyer in West Covina, meaning that he really knows a lot about maintenance. In the event of a truck accident, our west Covina personal injury lawyer will be able to identify whether the trucking company completed this task, the pre trip inspection. How you may ask? Simple, by looking at the Totality of the Circumstances. For example, from our personal injury lawyer's experience, many truck drivers simply sign off on the pre trip inspection log without doing an actual inspection. But, even if the trucker did actually complete a pre trip inspection, Our personal injury lawyer knows that most drivers spend approximately 15 minutes doing so, if that. Our personal injury lawyer knows exactly how long a pre trip inspection should reasonably take, as our truck accident lawyer has done countless pre trip inspections himself before his lawyer days!!!
Attorney Oscar is the type of truck accident lawyer that he himself will go where the tractor involved in the accident was towed, or wherever the truck is located, Oscar Ischiu will take his associates, and he himself will take a lamp and inspect the crashed tractor. As mentioned before, our personal injury lawyer ran a truck maintenance shop before he was a personal injury attorney, so our truck lawyer is not scared of touching oil or getting dirty in general. A Truck has thousands of parts, components, and it just takes one part to fail that may cause a truck accident resulting in catastrophic injury.
Another problem our personal injury lawyer in West Covina has seen is that truck drivers reports problems with maintenance, but the trucking company fails to take steps to repair. Why you may ask? Our Personal injury lawyer, Attorney Oscar knows exactly why. To begin, maintenance is expensive, especially the labor component. For example, a dealer charges approximately $175 an hour in labor, while local mechanics charge approximately $125 an hour. Further, due to Covid-19, our personal injury lawyer knows that there is a great scarcity of parts, so many parts are on back order. If that wasn't enough, our personal injury lawyer knows that trucking companies use aftermarket parts, used parts, or even remove parts from one tractor to another, but that's a conversation for another time. In addition, the trucking company knows that to make the repairs, which is their duty, the big rig must stop operation and it cannot generate revenue. All while, the trucking company driver being offered work by other trucking companies. This causes the trucking company to be in an awkward situation, and instead of completing their duty of 1) ordering the parts, 2) repairing the tractor, and 3) paying the driver to wait for the repairs to be made, the trucking company continues operating over the road which causes an accident.
For example, truck driver Rogel Aguilera-Mederos was convicted in October on four counts of vehicular homicide and other charges in the state of Colorado. Trucker was driving a semi tractor trailer in April 2019, traveling at 85mph, when the brakes failed, which led to a crash that led to a 28-car pileup causing death to some. It was later discovered that the brakes were overheated, which at that point are not effective, and it is our understanding that the engine brake was not in operation. Regardless, the company that truck driver Rogel Medero was driving for was identified as Castellanos 03 Trucking LLC out of Texas. The troubling issue that we found was that public records show that another trucking company, Volt Trucking was registered as a business one day after the fatal crash using the same address as Castellanos. In addition, it is troubling to note that Volt already has been linked with additional maintenance violations for "inoperative defective brakes." Thus, a truck driver may report a defective part on his tractor, but ultimately, it is the trucking company that makes the decision of making the repair. We are by no means excusing the actions taken by Rogel who is serving a prison sentence at this time, but it is terrifying to realize there are a lot of trucking companies operating our roads that neglect proper maintenance. Unfortunately, these negligent trucking companies share our roads with everyday drivers, which are a danger of causing a truck accident.
Our Truck Accident Lawyer will not simply take a deposition of a truck driver and/or trucking company owner, our personal injury lawyer will go to the big rig himself! Attorney Oscar knows exactly what to look for, where to look, how to look, and as in war, our personal injury attorney will take the initiative.
If you want the best chances of winning your case against the Trucking company for a truck accident, we cannot stress enough that you need a truck accident lawyer that not only knows trucking, but lives trucking. Personal Injury lawyer in West Covina CA, Attorney Oscar, has lived Trucking his entire life, and deeply understands all components of a Truck Accident.
Call our West Covina Personal Injury lawyer today, our Truck Accident lawyer will go to war for you!!! With offices in Monrovia and West Covina, we will provide you with a consultation, give you the details of the plan of attack, and immediately go on the offensive.