Marriage Fraud Penalties for US Citizens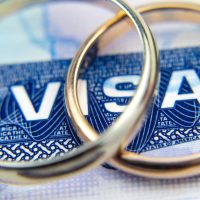 The federal administration under President Biden may be more favorable toward immigration than the previous administration, but it still takes any form of immigration fraud just as seriously. Marrying a U.S. citizen might be a fast track to citizenship, but if the marriage is a sham executed solely for immigration purposes, the parties could be open to serious criminal liability. To learn about immigration marriage fraud and the consequences, read on. If you've been arrested for marriage fraud or other serious crimes in Southern California, call a dedicated San Bernardino immigration and criminal defense lawyer for advice and representation.
What is Marriage Fraud?
Marriage fraud is defined as "knowingly entering into a marriage for the purpose of evading any provision of the immigration laws." Marriage fraud may take the form of marrying a stranger to help them get citizenship, marrying someone in exchange for money or goods to help them enter or stay in the country, or even marrying a friend for immigration purposes rather than for the traditional purposes of marriage.
Marriage fraud can be one-sided: An immigrant may commit marriage fraud if they "trick" a citizen into marrying them, leading the citizen into believing the marriage is legitimate, only to collect the immigration benefits and subsequently leave the citizen or divorce.
What are the Penalties for Marriage Fraud?
The penalties for marriage fraud can be severe. Perpetrators can face a heavy fine, imprisonment, or both. According to Immigration and Nationality Act § 275(c) (8 U.S. Code § 1325(c)):
Any individual who knowingly enters into a marriage for the purpose of evading any provision of the immigration laws shall be imprisoned for not more than 5 years, or fined not more than $250,000, or both.
A defendant charged with marriage fraud may face a host of other related charges as well, depending upon the circumstances. They could be charged with mail or wire fraud, depending upon the means of communication, conspiracy, harboring an alien, making false statements, or visa fraud, among other crimes.
Individuals may also be sentenced to a five-year prison term for engaging in a pattern and practice of helping others commit marriage fraud for commercial purposes. The latter prohibition targets criminal enterprises that sneak aliens into the country or otherwise help them commit immigration fraud.
Immigration officials might not pursue the most severe penalties in every case of marriage fraud. The harshest penalties are typically reserved for larger criminal enterprises. However, they still take marriage fraud very seriously and are more than willing to charge any participant with a felony. Even if they don't bring criminal charges against the immigrant as well, the immigrant will likely be deported and may be barred from ever entering the country or obtaining legal status–even if they subsequently marry a U.S. citizen legitimately.
Call a Zealous Southern California Defense Lawyer After a San Bernardino Immigration Fraud Arrest
If you've been arrested for marriage fraud, if you have immigration status issues, or if you are facing criminal charges in Southern California, you need skilled, trustworthy legal counsel on your side. At the Law Firm of Oscar A. Ischiu, Esq., we provide dedicated and effective criminal defense to Southern California defendants and assist with a host of immigration legal matters. Call our immigration and criminal defense law firm with offices in West Covina, Ontario and Monrovia for stellar representation across Los Angeles and San Bernardino counties.