What is an I-601A Provisional Waiver?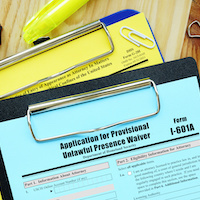 Los Angeles Immigration Lawyer, Attorney Oscar, has found that there is great misunderstanding as to what a provisional waiver is and how the immigration law applies to I-601A. So, what is a provisional waiver? In layman's terms, a provisional waiver allows certain immigrant visa applicants with relatives who are U.S citizens or lawful residents or have a spouse who is a United States citizen or Permanent Resident, to apply for a provisional waiver if the immigrant's initial entry into the United States was unlawful. Our Los Angeles immigration lawyer details below what a provisional waiver is and how a provisional waiver works with the complex immigration laws.
What is unlawful entry to the United States?
Unlawful entry to the United States is an alien who enters the United States by avoiding inspection by an immigration officer. In other words, crossing into the United States without legal permission. Lawful entry, however, is when the immigrant enters the United States with inspection from an immigrant officer, for example, on a Visa, and then decides to overstay the visa with the purpose of permanently remaining in the United States. For purposes of this article, we will focus on what is relevant to the provisional waiver, which is unlawful entry for an undocumented immigrant.
How does an I-601 Provisional Waiver work?
First, when an undocumented immigrant stays in the United States after entering unlawfully, the undocumented immigrant is accumulating what is called unlawful presence. Immigration Attorney Oscar Ischiu notes that the more time an immigrant spends in the United States unlawfully, the more difficult it may become to get immigration benefits. For example, for individuals who entered the United States unlawfully and have remained for more than 180 days or more than a year, there is something called a 3 and 10-year bar. In other words, the immigrant has a 3-year bar if he/she unlawfully remained in the United States for over 180 days, and the immigrant individual has a 10-year bar if he/she remained in the United States unlawfully for more than one year. Due to the unlawful presence for this period of time (whichever applies), the undocumented immigrant must apply for a waiver in order to attain immigration benefits. Thus, again in layman's terms, a Provisional Waiver is essentially a "forgiveness" for the unlawful entry into the United States.
What are the requirements for a Provisional Waiver?
There must be a showing of "extreme hardship" in order to qualify for a provisional waiver. Our immigration lawyer sits down with our clients and drafts a plan on the best arguments to make in the hopes of attaining a provisional waiver. Although nothing in life is guaranteed, we take the time to obtain the facts, and from those facts, make a compelling argument to justify the waiver. For example, from the facts, we make all efforts to show that the United States citizen spouse or permanent resident would suffer "extreme hardship" if the undocumented immigrant would leave the United States due to the 3 or 10-year bar depending on the unlawful presence period which is at issue.
What is Extreme Hardship?
Extreme hardship is complex enough to merit its own article at a later date. But for the purposes of this article, extreme hardship means more than a showing of financial hardship, which makes extreme hardship a very high standard. When and if the provisional waiver is approved, then the undocumented immigrant must leave the United States and complete an interview abroad, likely at a U.S. embassy. This process is known as consular processing. After the interview (consular processing), the immigration officer would make a final determination as to whether the undocumented immigrant qualifies for a Visa, and if the answer from the immigration officer's decision is positive, then the immigration officer would issue a Visa to the undocumented immigrant, whom now may enter the United States lawfully. It is important to note that once the re-entry to the United States has occurred, the entry is now lawful, which is the "forgiveness," of the initial unlawful entry. Thus, the purpose of a Provisional Waiver, commonly known as an I-601A waiver.
Should I hire an Immigration Lawyer to apply for the (I-601A) Provisional Waiver?
Provisional Waivers are complex, and in our opinion, extreme hardship is difficult to show. Thus, we believe it is imperative that you hire an immigration lawyer or at least consult with an immigration attorney. There are a lot of scams out in the world from other parties that are simply paper fillers, and thus if an immigrant allows these paper fillers to fill out their I-601A, in our opinion, because these paper fillers are not immigration lawyers, the chances of attaining a Provisional Waiver decreases immensely. At our immigration law firm, Attorney Oscar first gathers the facts, and from those facts makes all compelling arguments necessary to justify approval of a provisional waiver. Our immigration lawyer was the Valedictorian of his law school and will not stop until he finds the best way of being successful.
Our Immigration Lawyer is DIFFERENT than the rest!
Just this week, we had to unfortunately deny legal representation to three couples that we believed would not qualify for an I-601A provisional waiver as these couples would only be able to show a financial hardship, which for immigration law purposes, is not sufficient to meet the standard of Extreme Hardship. Attorney Oscar felt terrible when he had to be honest with these couples by telling them that in his professional immigration lawyer's opinion, the chances of qualifying were very low. However, Oscar asked different questions and spent over an hour with each couple trying to find ways to meet the extreme hardship standard. Although we understand that financial hardship is truly extreme to our lives, unfortunately, the United States immigration laws that decide whether to grant an I-601A provisional waiver do not believe that mere financial hardship meets the extreme hardship standard.
Attorney Oscar Ischiu became an immigration lawyer to really make a difference in people's lives. Growing up, he decided that he did not want to be on the sidelines as he witnessed many paper fillers scamming his own family members. Attorney Oscar not only has a passion for immigration but also a deep-rooted connection with the immigration laws as our immigration lawyer was the first generation from an immigrant Guatemalan family. Thus, our immigration lawyer became a lawyer to help the immigration community attain legal status. When dealing with an I-601A Provisional Waiver, Oscar goes above and beyond to justify a finding of extreme hardship, but that's an article for another day.
If you want more information on provisional waivers, or if you have any questions on how we process I-601A applications, please contact our Los Angeles immigration lawyer, Attorney Oscar, today at 626-514-1000, and please ask for the Immigration department. We provide immigration consultations at any of our immigration law offices in West Covina, Ontario, or Monrovia. We keep it honest, direct, and help you understand how and why the immigration laws apply.
Call our Immigration lawyer today at 626-514-1000, and of course, Hablamos Español al 100!